TAKE CARE OF YOUR CLINICAL PROJECT
WITH EXPERT SUPPORT
Soladis CS, the expert medical and biostatistics partner for your clinical projects
OUR SPECIALIZATIONS
A CRO with over 20 years' experience, compliant with standards (ICH, CDISC, etc.) and regulatory requirements (ANSM, EMA, FDA…).
Working with life sciences stakeholders, we design, set-up, and coordinate studies throughout Europe thanks to our network, from the writing of protocols to the publication of scientific articles.
PHARMA LABS – BIO/MEDTECHs – MD/IVD – COSMETICS – NUTRITION – VETERINARY

Interventional research
Phase II to IV studies
All designs

Interventional research
with minimal risk/constraint
Transversal or longitudinal studies
All designs

Non-interventional research
Cohort studies, registries
Observatories, Post-MA studies

Historical data studies
Bibliographic studies
Meta-analyses
OUR SERVICES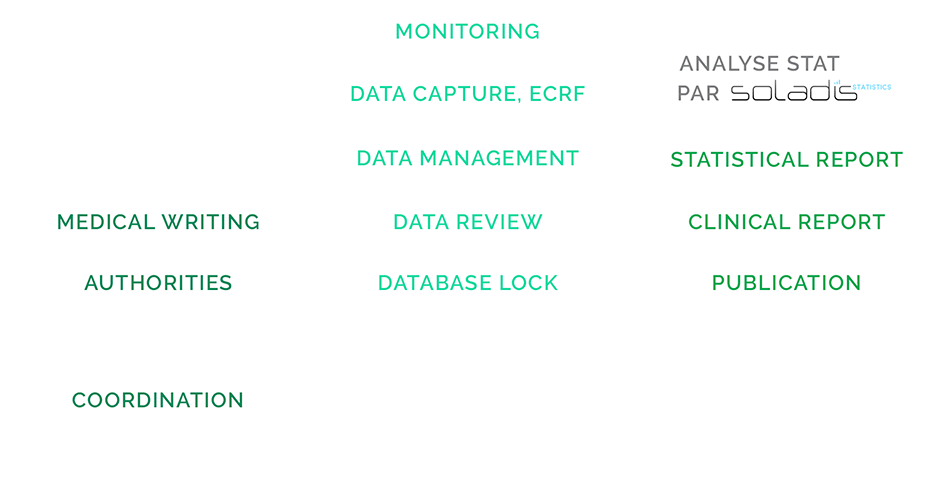 CASE STUDIES
Diagnostic

Diagnostic

Develop a clinical evaluation strategy for the CE marking of an image-processing algorithm.
Diagnostic

Biotech

Medical Device

Hospital

Pharma

Nutrition